Lieutenant General Andrei Ruzinski, the commander of the 11th Army Corps of the Baltic Fleet in the Western Military District of the Russian Armed Forces, has been served with a notice of suspicion by the Security Service of Ukraine (SSU).
The SSU has gathered evidence against Ruzinski, indicating his involvement in initiating the full-scale invasion.
According to the findings, Ruzinski ordered Russian troops under his command to breach the Ukrainian state border and capture Kharkiv Oblast.
Related Articles
UK plans to designate Vladimir Putin's private army Wagner Group a 'terrorist organisation': What does it mean?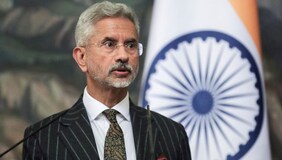 India tried to help out in Russia-Ukraine conflict, says Jaishankar
Subsequently, the invaders, consisting of more than 4,000 Russian soldiers from the Balakliya occupation group, occupied areas in the Kharkiv, Chuhuiv, and Izium districts of Ukraine.
During the military operations, the invaders utilized tanks, tube artillery, anti-aircraft missile systems, as well as Buratino and Solntsepyok heavy flamethrower systems to carry out their attacks on Ukrainian settlements in Kharkiv Oblast.
Furthermore, it was discovered that Ruzinski repeatedly employed firepower to undermine his superior commander, the head of the Western Military District of the Russian Armed Forces.
This included the deployment of army attack aircraft, Mi-8 and Ka-52 attack helicopters, and units equipped with 300 mm Smerch multiple-launch rocket systems.
For his involvement in the aggressive war against Ukraine, Ruzinski was awarded by the Kremlin, and over 1,000 occupiers under his command were also honored. He received a military rank promotion and was transferred to serve in Russia.
The Security Service of Ukraine has served Ruzinski with a notice of suspicion under the charge of "Conducting aggressive military actions committed by a group of persons based on a prior conspiracy." If convicted, he could face up to 15 years of imprisonment.
Read all the Latest News, Trending News, Cricket News, Bollywood News,
India News and Entertainment News here. Follow us on Facebook, Twitter and Instagram.